The February Issue
dear members of the IDOCDE community,
the year is 2021. It's almost been a year since the onslaught of the global pandemic. To say that the field of dance, choreography, and dance education's been through a lot this past year would be an understatement. Is it even possible to encompass with a single statement the global effects of the pandemic on our industry?
Here's a suggestion, a belated new year's reflection kind-of thing: answer one or several of the following questions in an idoc, then add the idoc to the following folder: the pandemic observations (linked below). Let's inform each other of the experiences we've had during this pandemic, let's tell stories of the things we've learned, the hardships we've experienced, the changes imposed by the pandemic and the changes we'd taken the opportunity to make ourselves. I for one would love to learn about the effects of the pandemic from you instead of the news.
How has the pandemic changed how it is possible for you to engage in your practice?

Has your practice changed in the past year? Has your focus shifted this past year? What kind of content are you working on right now?

Have you been productive this past year? Have you or someone close to you experienced health or mental health issues or difficulties? Did you manage to find support in dealing with health-related challenges? Who or what did you turn to?

How has your government handled the pandemic? Was there support organised on a local or a national level? Were you able to access that support? Were you qualified to access that support?

What decisions did you make that perhaps unexpectedly changed your life for the better?
link your idocs to the following folder: the pandemic observations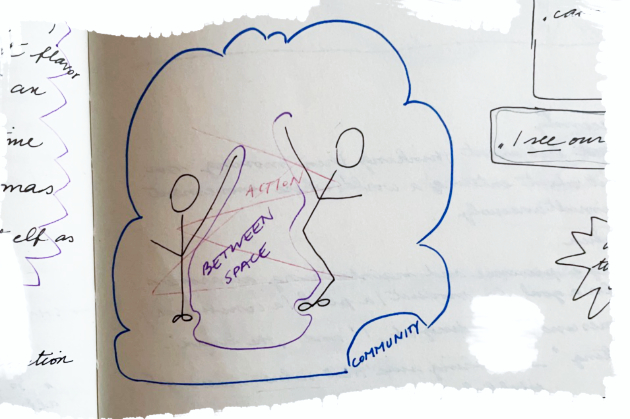 drawing 2012©pavleheidler
In the meantime ? some of you might be happy to learn that we've begun working towards the 2021 IDOCDE symposium. The first announcements regarding this year's symposium will be released beginning of March.
For now, I would like to say that we're facing uncertainty with determination, confident in the fact that come together we will, be it this way, that way, or some other way. In all likelihood, to be fair, we'll be coming together in more ways than one. These are the time, after tall. Complex? Sure. But real!
with love,
pavleheidler for Team IDOCDE