LACE #2: Mediating Touch
hospitality, integration, and the interstitial
ImPulsTanz Symposium for Dance and Other Contemporary Practices
is continuing the legacy of the IDOCDE symposium
symposium >>> july 26-28, 2024
residency >>> july 28 - august 2, 2024
www.lacesymposium.com
Food For The Day
Featured IDOCs

[deu]

Making Sense through Sensation
Reflektion über einen Workshop zu Dokumentation als Teil künstlerischer Praxis/ Forschung
By
Andrea Keiz
2020.07.10

1

4512

Thinking Bodies in Dance. A somatic R.E.A.Ch.
introduction to a Ph.D. in intermedial and somatic dance practices.
By
Klaas freek Devos
2021.02.16

1

3820

Dancing To Silence: Becoming 'Ear-Body'
Dance and music commonly come hand in hand, but many professional dancers prefer dancing to silence. Why is that?
By
Ira Ferris
2021.02.16

0

3329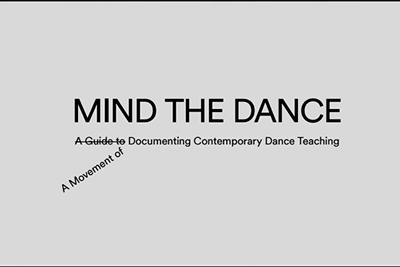 MIND THE DANCE
is a collection of essays, manuals, scores, exercises, and maps; giving voice to a multitude of stances, ideas, and applications in and around documenting movement. It aims to motivate and empower the reader-teacher-artist to use creative documenting to enhance their teaching and artistic practice.
The IDOCDE project
REFLEX Europe
was acknowledged as one of the top 5 projects out of the 500 Strategic Partnership Projects by the Austrian National Agency of Erasmus+ Education. for more information, please follow the
link
.
Latest IDOCs