In the newest IDOCDE Editorial, dates for the IDOCDE symposium 2020 are confirmed and as detailed update as possible is given on the Virtual Place for Taking Space initiative, including an announcement on an upcoming session that is open to public.
"This world is changing at a more obvious–if not a higher rate–as it used to when things were "normal." We here at IDOCDE are working to share with you the information just as soon as we have it in as clear a format as possible, without failing to acknowledge the opportunity that we're facing. Namely, the opportunity to learn how to do things differently."
onwards,
pavleheidler for Team IDOCDE
Food For The Day
Featured IDOCs

My glossary of personal terminology
A personal glossary created during Mind The dance residence in Vienna, July 2018, inspired by "Glossary of personal Terminology" by Bertha Bermudez Pascual / Mind The Dance publication
By [Multiple Creators]
2018.07.27

1

3849

Questions which arrised during the MTD Residency BODIES AS R...
During the 3 days of our residency we created questions from our writings, embodyments and dancings.
By [Multiple Creators]
2018.07.30

0

3262

We are currently not taking in applications for the IDOCDE Residency!
For all those interested in the IDOCDE Residency 2020 equivalent, please look for the IDOCDE Virtual Place for Taking Space.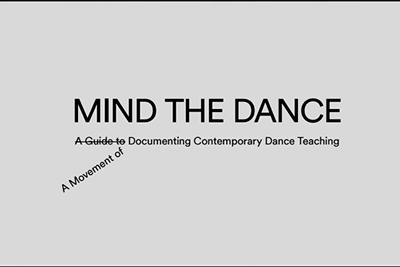 MIND THE DANCE
is a collection of essays, manuals, scores, exercises, and maps; giving voice to a multitude of stances, ideas, and applications in and around documenting movement. It aims to motivate and empower the reader-teacher-artist to use creative documenting to enhance their teaching and artistic practice.
Latest IDOCs