LACE #1: Topographies of Touch
ImPulsTanz Symposium for Dance and Other Contemporary Practices
Lace#1: Topographies of Touch is bringing together experts working at the intersection of art, academia and activism to examine the challenge of place, the restriction of its specificity and to explore strategies for successful interpersonal cross-cultural contact-making in the age of gentrification, polarisation and segregation.
Lace#1 will provide distinctive formats curated and hosted for and by practitioners.
©EfvaLilja
17-21 July 2023
Lace#1: Topographies of Touch Residencies
hosts: Defne Erdur + Anouk Llaurens, Julien Bruneau, Eva Maes
21–23 July 2023
Lace#1: Topographies of Touch Symposium
panel moderators: Efva Lilja + Katy Dymoke + Mayfield Brooks + Deirdre Morris
online moderators: val smith + Laura Ríos
panelists: Eszter Gál, Peter Pleyer, Alex Bailey, Gabriella Zeno, Amaara Raheem, Lucie Strecker, Nikolaus Gansterer, Peter Kozel, Eva Meyer-Keller, Jeroen Peeters, Vera Tussing, Anya Cloud, Makisin Akin, Ismael Huston-Jones
deep dive hosts: Alex Bailey, Klaas Devos, Susan Sentler, Glenna Batson, Angela Schubot, Shelley Etkin
Food For The Day
Featured IDOCs

[deu]

Making Sense through Sensation
Reflektion über einen Workshop zu Dokumentation als Teil künstlerischer Praxis/ Forschung
By
Andrea Keiz
2020.07.10

1

4185

Thinking Bodies in Dance. A somatic R.E.A.Ch.
introduction to a Ph.D. in intermedial and somatic dance practices.
By
Klaas freek Devos
2021.02.16

1

3494

Dancing To Silence: Becoming 'Ear-Body'
Dance and music commonly come hand in hand, but many professional dancers prefer dancing to silence. Why is that?
By
Ira Ferris
2021.02.16

0

3030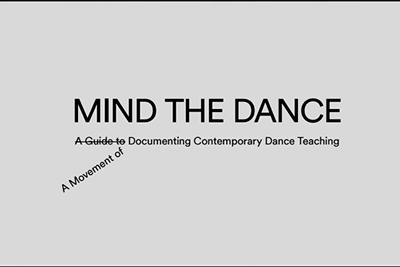 MIND THE DANCE
is a collection of essays, manuals, scores, exercises, and maps; giving voice to a multitude of stances, ideas, and applications in and around documenting movement. It aims to motivate and empower the reader-teacher-artist to use creative documenting to enhance their teaching and artistic practice.
The IDOCDE project
REFLEX Europe
was acknowledged as one of the top 5 projects out of the 500 Strategic Partnership Projects by the Austrian National Agency of Erasmus+ Education. for more information, please follow the
link
.
Latest IDOCs