"What are you doing to understand what you look at?" whispers Berger to Keiz and Keiz takes it a step further: "How long is the storage time of thoughts?" she whispers to us. Let's see what we would whisper out after reading her editorial for this month.

Food For The Day
Featured IDOCs

The Use of Uselessness - Documentation
The Use of Uselessness - Documentation. IDOCDE 2016 began with a participatory ritual, a Slow Race with little buckets filled to the brim with water. This was followed by a performance l...
By
Claudia Kappenberg
2016.11.10

0

301

Somatic Generosity - Documentation
Somatic Generosity aims to make a place for explorations of vulnerability, empathetic listening and subjective awareness. Being witnessed in vulnerability grows our ability to experience and...
By
Deirdre Morris
2016.11.09

0

288

Capacity of language - Interview with Frey Faust
As part of the REFLEX research on documenting contemporary dance, Ulla Mäkinen will interview Frey Faust and discuss his work with Axis Syllabus and his approach to documenting. This inte...
By [Multiple Creators]
2016.05.05

0

718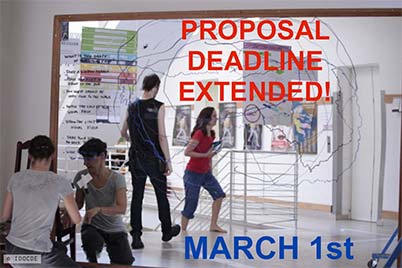 Informed by the developments in the world of socio-politics – and the cultural attention that goes along with it – we at the IDOCDE headquarters decided it was time to frame our annual Call for Proposals as a Call for Action. This decision is to address the theme of the 5th IDOCDE Symposium : why compromise. mind the dance. : promoting actions and creative visions in a precarious world.
Proposals
welcome before the 1st of March, 2017.
Latest IDOCs

Creative Body Intelligence
Creative Body Intelligence is the way I call my contemporary dance class and practice. This IDOC is a description of the material, games, structure and strategies I propose. I love to think...
By
Zaida Ballesteros Parejo
2017.02.23

0

21

reading list
This is a reading list I share with every new group I teach. The reading list is prone to change – by myself and any member of the group I share it with. I share the list through google d...
By
Pavle Heidler

2017.02.22

0

19