the 2020 IDOCDE symposium has come to an end. Team IDOCDE will embark on a post-production journey... just s soon s we've gotten enough sleep.
for now, a brief but heartfelt expression of our gratitude—to all contributors, hosts, volunteers, and attendees—for the most informative of weeks. the wealth of knowledge present in the community is admirable.
for all the symposium attendees, if you would be so kind and complete the sympoisum feedback survey, we would really appreciate that. you can access the survey by following
this link
. thank you.
it was an honour to have been invited to spend this time with each and every one of you.
thank you. thank you. thank you.
pavleheidler for Team IDOCDE
Food For The Day
Featured IDOCs

[deu]

Making Sense through Sensation
Reflektion über einen Workshop zu Dokumentation als Teil künstlerischer Praxis/ Forschung
By
Andrea Keiz
2020.07.10

0

244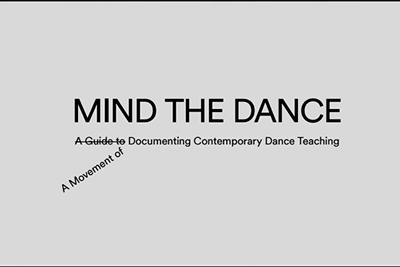 MIND THE DANCE
is a collection of essays, manuals, scores, exercises, and maps; giving voice to a multitude of stances, ideas, and applications in and around documenting movement. It aims to motivate and empower the reader-teacher-artist to use creative documenting to enhance their teaching and artistic practice.
Latest IDOCs