Martin Streit

//

Teacher

Defne Erdur

//

Teacher

Eszter Gal

//

Teacher

Kerstin Kussmaul

//

Teacher
IDOCs
»
Kitchen Table and Eating Together - Teaching Form[less]? - 2015
The Kitchen Table was a setting for an open discussion about any topic during the 3rd IDOCDE Symposium Teaching Form[less]? - Documentation 3rd IDOCDE Symposium
2016.04.14

2496
views

1 appreciation
Tags:
IDOC Type:
In Folders:
Kitchen Table
hosted by Defne Erdur
inspired by "the kitchen table" at Dance Education Revisited - international conference on dance education - 9-14th February Hasselt, Belgium, inspired by artist and researcher Lois Weaver who created "The Long Table" inspired by the film Antonia's Line by Maureen Gorris.
Program idoc for the Kitchen Table http://www.idocde.net/idocs/1210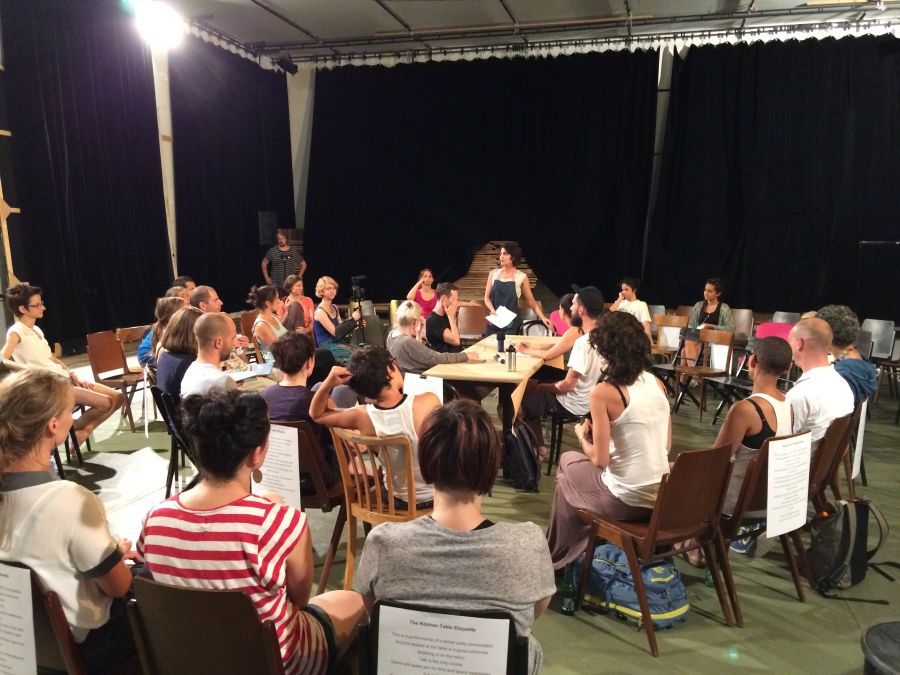 IDOCDE Kitchen Table Etiquette:
This is a performance of a dinner party conversation
Anyone seated at the table is a guest performer
Anything is on the menu
Talk is the only course
Defne will assist you for time and space awareness
It is a democracy
To participate simply take an empty seat at the table
If the table is full you can directly request a seat
If you leave the table you can come back again and again and again
Feel free to write your comments on the tablecloth
There can be silence
There might be awkwardness
The thread of discussion does not have to make sense at all times
There could always be laughter
There is an end but no conclusion
The Sketches on the Kitchen Table of Teaching Form[less]? :

other detailed pieces of the sketch and the video of the event can be found in the galery below.
Eating Together
Preparation,
Food
Cooking
Volunteers



Video © franzi kreis, www.franzikreis.com
Comments:
You must be logged in to be able to leave a comment.